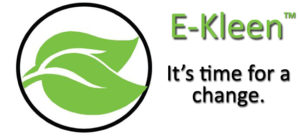 ANNOUNCING E-KLEEN
It's time for a change in cleaning chemicals!
Available Now:
SAFER and SUSTAINABLE cleaning chemicals for people and the environment.
Our E-Kleen products meet one or more of the following criteria:
SAFETY: DOT and OSHA non-hazardous
SUSTAINABLE: EPA (DfE) Design for the Environment
ENVIRONMENT: No SARA 311/312/313 substances
Our E-Kleen product line is used across industries and is available to both commercial and retail customers.
E-Kleen Product Request Form