Discover the Champ! - Unmatched General Purpose Cleaning Solution!
Experience the Power: Champ is the best overall cleaner with exclusive active ingredients. Its revolutionary surfactants lift dirt, not smear it, leaving your boat or RV spotless.
Unbeatable Performance: Dilute one gallon of Champ with water to make up to 16 gallons of superior cleaning solution.
Champ is non-toxic, gentle on painted surfaces, clothing, and plastics. Your boat and RV deserves the best – try Champ now!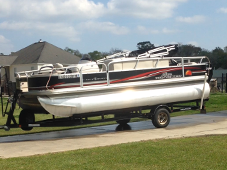 NuShine - Revolutionizing Metal Care - Safe, Effective, and Easy!
The nonhazardous proprietary NuShine formula effortlessly brings back the natural shine of aluminum without any harsh acids.
Gentle Yet Powerful: Unlike other aluminum cleaners that contain corrosive sulfuric and hydrochloric acids, NuShine's formula is free from harsh chemicals. Its thickened viscosity ensures better application dwell time for exceptional results.
Elevate your metal cleaning experience with NuShine – the safe, effective, and efficient solution!