Marine and Recreational Boating
TWI manufactures The Strongest Marine Cleaning Power Available!  Compare our product to the competition and you'll see that they use heavy, potentially harmful and damaging acids that produce cleaning results noticeably less effective.  NuHull does not use any of these heavy duty, large concentrations of acids.  Instead, we use the science of formulation, mirrored on our expertise in our industrial cleaners, to manufacture a marine cleaner that is more effective and more safe to use.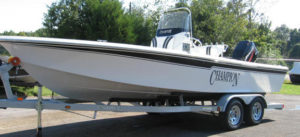 The Way, Inc. ® has been serving the Marine Industry for almost two decades with the highest concentrate cleaners available.  The science behind our formulation expertise results in a highly effective hull cleaner with an extremely low acid content.  Our proprietary blend of surfactants is what makes our products more efficient, safer, and deliver better results than any leading hull cleaner.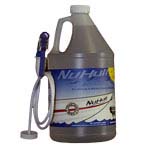 NuHull Marine Cleaner is the strongest marine cleaning power available.  NuHull uses a proprietary blend of surfactants resulting in a more effective cleaning of your hull than anything on the market.  Most hull cleaners are incredibly harsh acids or alkalies that can harm your boat and environment while cleaning.Try NuHull, You will be amazed at how easy it is to clean your boat.
The NuHull Advantage
Your Top 10 Reasons to Use NuHull
#10 Will not damage Fiberglass or Gelcoat
#9 Restores yellowed hulls
#8 More Powerful than retail products
#7 Contains a blend of three acids
#6 Removes hull scum instantly
#5 Brightens and cleans aluminum
#4 Safer than Muriatic acid
#3 EASY to use Spray On & Rinse Off
#2 Made in the USA
#1 Guaranteed – IT WORKS!
NuHull Information and Orders
Champ Marine Cleaner
While NuHull is cleaning your Hull, Champ is our specialty formulated interior cleaner for your boat.  Try Champ, the best overall cleaner available. Spray on and wipe or wash off! NEW to the consumer market. No other name brand marine cleaner has our active ingredients. No other product releases dirt like Champ.
Fact: Surfactants work like a muscle-man. They attach themselves to one molecule of water and one molecule of grease. Normal cleaners smear grease, because they are attached to the grease molecules. Champ actually surrounds the grease molecules and lifts them from the surface! Seeing is believing!
Strong: One gallon of Champ makes 16 gallons of cleaner superior to any product previously available!
Safe: Champ is non-toxic and will not harm painted surfaces, clothing, or plastics!
Champ is a Non-Hazardous, effective cleaner that will clean; Bilge Slime, Oils & Grease, Bait Well Odors, Floor & Fabric Stains, and more.
Champ Orders
NuShine Aluminum Cleaner
This is a truly revolutionary product that will clean, polish, and restore the natural shine of most metals using our nonhazardous proprietary formula.  Other aluminum cleaning products are very harsh and can include sulfuric and hydrochloric acids, which are very corrosive. NuShine does not contain any harsh acids and is formulated with thickened viscosity for better application dwell time. Pleasant Lemon, Citrus Aroma Unique light green appearance Slightly viscous Non-Hazardous; as with any cleaning products, eye protection is recommended. Directions for use: Spray directly on surface and let sit for 5 minutes, rinse thoroughly. Use including scrubby pad for hard to clean areas. If there is any oil, grease, or petroleum based deposits on the surface of the aluminum, it must be removed prior to use of this product.
NuShine Orders